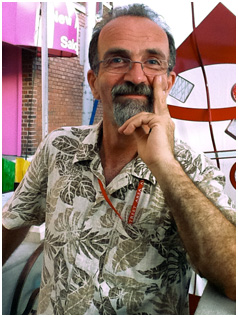 Artist Statement
Reza Pishgahi
Abstract Sculpture, Painting and Architectural Elements
812-391-3181 (cell) , 812-332-4201 (land-line)
The desire to explore my artistic abilities came to me in the midst of a career in academia. I left a full-time position after 20 years to pursue my creative path as an artist – to fulfill my dream to be involved in work that I truly enjoy and work that feeds my soul while bringing beauty to others. The abstract sculptures I create represent the opposites within nature – the transparent, fragility of glass and the opacity and strength of steel and stone. Despite their differences, these elements complement one another as all are needed to create beauty and balance.
Cast, cut, and carved glass is joined with cut, shaped and welded steel to create both wall pendants and table top sculptures.
The poet, Rumi, provides the inspiration for my wall sculptures. His poetry represents a mystical journey where the seeker symbolically turns towards the truth, grows through love, abandons the ego, and finds truth in order to be of service to the whole of creation without discrimination with regard to beliefs, races, classes and nations. Rumi wrote, "When you do things from your soul, you feel a river moving in you, a joy."